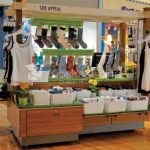 Opening a kiosk is a cheaper way to get into the apparel retail business, as opposed to a traditional, brick-and-mortar store. To start a successful clothing kiosk business, there are several things you can do:
Specialize in selling a certain type of clothing–this is otherwise known as your niche. Since a kiosk is a small retailing space, choose clothing that can easily be displayed, such as T-shirts, caps, children's clothing or pet clothing.
In malls, inventory should be narrowed to the low end of the price range. Since many kiosk and cart purchases are impulse buys, having your customer think twice about the price is something you want to avoid.. Price your clothing reasonably, ideally below what a normal retail store would charge.
Promote your clothing kiosk business. People passing by will be your main source of income, as people don't generally plan to shop at a mall kiosk; they simply make impulse purchases there. Use large, attractive signage, clearly display your prices and merchandise, and open a website or social networking account so returning customers can connect with you.