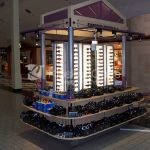 Sunglasses kiosks are perfect for summer sales. Most people come to these kiosks to protect their eyes. However, it is common to see them in ports as well.
Our sunglasses kiosks will have all kinds of accessories included. In this way, they will make it easier to sell. Not to mention that the ideal will always be to sell by the seasons.
Besides, checking the weather is not a bad option.
We have a lot of designs, just contact us!