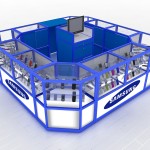 If you're interested in opening or relocating a mall kiosk business, here are some mall kiosk ideas:
Snack and quick service Food
Shoppers often get hungry in the middle of their shopping trips. And snack foods like pretzels, cookies and other easy-to-carry items can be popular. You can also offer some more substantial food items like burgers, pizza and sandwiches at quick service kiosks.
Candy
You can focus on small, packaged food items that customers can take to go. Candy is a great example of this.
Coffee & Tea
Coffee is also popular with shoppers. So you can easily set up a kiosk with coffee drinks they can carry around while they shop.
Similarly, you can offer tea drinks or even packages of tea that they can buy and make at home.
Juice
To appeal to health conscious consumers, you can set up a juice and smoothie bar at a mall kiosk.
Electronics
You can sell a wide variety of electronic devices at mall kiosks, including mobile phones, tablets and fitness trackers.
Mobile Phone Accessories
You can offer accessories like cases, chargers and other smaller items to appeal to smartphone and tablet owners. And even offer a service at your mall kiosk, like repairing mobile phones.
Sporting Goods
Sporting goods like athletic wear, safety gear and fitness equipment can also be popular items to market to mall shoppers.
Flowers
Florists, you can set up a small stand at a local mall to reach a wider variety of shoppers with your arrangements.
Cosmetics
Cosmetics are fairly small and can attract a lot of impulse buyers, so this makes for a great mall kiosk business idea.
Spa Services & Hair Products
You could focus on spa services like manicures, pedicures, massages or similar items. And offer hair products that customers can browse or even try out at your kiosk.
Jewelry
Or you can simply sell earrings and other jewelry items that you make yourself or source from other manufacturers.
Sunglasses & hats
Another small item that's pretty popular with impulse shoppers, consider setting up a stand to sell sunglasses.  Hats are also popular items that you can easily sell at a mall kiosk.
Toys and Video Games
Or you can offer a variety of different toys and games for kids at your mall kiosk.
Pet Items
Pet owners are known for buying a lot of different products for their furry friends. You can offer anything from artisan dog treats to Halloween costumes for cats.