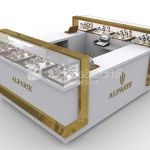 The jewelry kiosks We will offer a great selection of gemstone jewelry in various designs, colors and sizes. Our jewelry will include bracelets, necklaces, earrings and rings. The kiosk will stock a wide selection of jewelry and will offer a service to make custom pieces for shoppers while they wait or shop in the mall.
The U.S. jewelry retail industry consists of approximately 28,000 specialty stores! The jewelry retail industry is highly fragmented with the top 50 jewelry chains generating less than half of revenue.
Jewelry kiosks will focus on one primary market: women. We will concentrate our marketing efforts on professional women, as well as those who like to dress up when going out for the evening.
In this industry trends are in our favor. Gemstones are popular because of their unique natural colors and features. They are affordable yet ideally suited for business attire and both informal and informal occasions. Gemstones complement and can dress up any outfit on a woman.