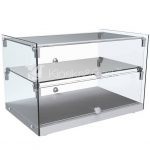 The most used showcase for any kind of jewelry is this type of countertop display cases. With a wood or metal frame. These counter top cases provide an ideal eye level view and they're designed to tempt customers to indulge in a last-minute additional purchase.
In many cases, if you are looking to purchase a counter top display you will discover that much of them are designed to rotate freely. Allowing the retailer to display products on every side. The key to maximize the value of your countertop display cases and the merchandise displayed in them is to usually display lower priced items that are more suitable to impulse buying. However, we have a lot of designs for you. And we can use them out of our jewelry kiosk!
Above all it's your satisfaction!