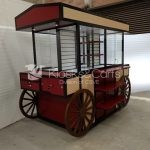 Cell phone carts are quite common in shopping malls. However, it is rare to see them in parks. Because it's so easy to carry your cart around, it's easier to move it to certain strategic points.
One of them is the parks, due to the traffic of people. Besides that, the technology that lies everywhere makes it an excellent site. Parks cover all audiences: from children to seniors. All of them have a technological device and it must be a cell phone.
Among the services it can offer are:
The personalization of micas. That is to say, to offer unique designs that you manufacture or your work team.
The sale of micas. Not only would you customize them but you would sell them from authorized distributors.
Quick setup. You can help seniors set up their phone's standard settings.
Fix minor bugs. Such as broken screens (not the display), a failure with applications or memory.
Equipment cleaning. As the name implies, the maintenance and cleaning of equipment for optimal operation.
In addition to all this, you can sell chargers, cables and adapters that will help your cell phone cart take off more.
Cell phone carts are a big investment with big profits. Just contact us for more information!