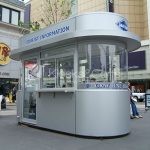 Aluminum kiosks are an excellent choice when it comes to cost. These kiosks have many functions for any business.
Cell phone kiosks are an example. In them, the important thing is to sell the cell phones and accessories.
In other cases these kiosks are used as information centers. It is perfect because being economical, you will earn a lot of money.
The use of aluminum kiosks for magazine stands is great. You can sell anything from books to newspapers.
We have a lot of options for you, just contact us!